Home of the Fightin' Hornets
Launching the Next Generation
The task of educating more than 5.4 million Texas students can seem overwhelming. The idea of 5.4 million young minds relying on us to provide what they will need to succeed in their ever-unfolding future can feel insurmountable. But when we were children, the adults in our world provided for us, and now it is our turn to provide for today's students.
While educating children may not be rocket science, it is a complex, demanding responsibility: ensuring that schools are available, qualified teachers are in place, buildings are safe, and resources are provided. It's a responsibility that locally elected board members generously accept. They commit to read reports, learn the laws, understand the community's needs, set thoughtful goals, and wisely handle the district's financial resources.
But it isn't just a simple commitment. Serving as a locally elected board member means going through an election and making difficult decisions for the district, its employees, and its children. It means being available to hear from concerned parents in the grocery store, at the game, or over the backyard fence. It means committing to the time it takes to do the job right. And in Texas there is no pay for school board members, and there are required training requirements, creating further demands on their time. In short, why would anyone volunteer for this role?
Fortunately, in every community, caring adults have signed on for the responsibility and hard work of making our schools the best they can be. They immerse themselves in learning what they need to know to make good decisions that will provide for students, from the very youngest to the graduating senior. Trustees are public servants who generously work to benefit the most vulnerable members of each community.
Take a moment to recognize your local trustees. Take a moment to honor the work they are doing to help your students blast off into the future. Take a moment to say thank you for the work school board members are doing on your behalf.
Join me in celebrating School Board Recognition Month throughout the month of January.
Hornet Nation is Weather Aware
Attention Hornet Nation!

Boles ISD has important information regarding severe and inclement weather communication procedures.

A decision to delay or cancel school, initiate an early release, and/or cancel evening school activities will be made as soon as possible.

In the event of inclement weather, a decision will be made the night before, if possible, and by 5 AM at the latest. Information about school closures will be published through the following means of communication:

District website at www.bolesisd.com

School Rush! will deliver a phone, text and email alert to all parents and staff (please check with your child's school to make sure your contact phone number and email are current)

Post will be made to the official Boles High School and Middle School Facebook pages

Administrators will email all district employees to notify them

Closure or delay will be reported to the following DFW TV Stations: Fox 4, NBC 5, WFAA 8, CBS 11
Jiangsu Robotics #1 Nanjing China Robotics students summer camp at Boles
Please see the attached letter regarding a new safety measure Boles ISD is taking beginning in January. If you have any questions, please contact your child's campus office. Thank you!
https://s3.amazonaws.com/scschoolfiles/982/interceptletter.doc
https://s3.amazonaws.com/scschoolfiles/982/germblast.pdf
Bacterial Meningitis Information
https://s3.amazonaws.com/scschoolfiles/982/bacterialmeningitis.pdf
Boles ISD Board of Trustees
Congratulations to the Boles ISD Lake Tawakoni Regional Chamber of Commerce iHeart Banquet! Volunteers of the Year Steven and Julia Welch, Secondary Teacher of the Year David Burton, Youth of the Year Haley Anderson, and Elementary Teacher of the Year Darlene Weesner.
Boles ISD Overall Accountability Summary
Met Standard with an A Rating
Distinction Designations
Boles High School: Science, Social Studies, and Comparative Closing the Gaps
Please refer to the 2019 Accountability Rating System for additonal information
https://tea.texas.gov/2018accountability.aspx
Boles ISD Department of Public Safety News Release
https://s3.amazonaws.com/scschoolfiles/982/dpsnewsrelease_.docx
Attention Hornet Nation!
Boles ISD will continue using School Rush! website and smart phone app to communicate pictures, information, dates, events, school closings, emergencies, and more. Please go to schoolrush.com for more information, and to sign-up if you haven't already.
Boles ISD 2019 Senior and Kindergarten Graduates
Congratulations Graduates!
Once A Hornet... Always A Hornet!!!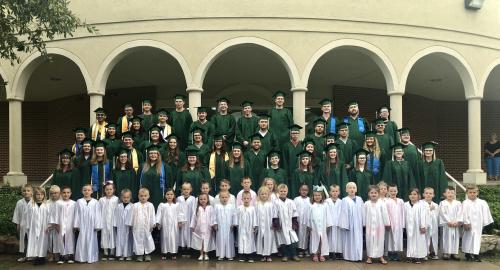 Please see the link below for information on how to prevent the Zika Virus.
https://s3.amazonaws.com/scschoolfiles/982/zika.pdf
This is Boles!
Dr. Graham Sweeney, Boles ISD Superintendent, speaks about the unique and welcoming environment Boles ISD offers students, parents, and community members. Click on the video below to see how special our district is to everyone that calls Boles ISD home.